Equipment labeling requirement for arc-flash were initially introduced in NEC 2002 and later in NFPA 70E 2009.Since then, it has become a norm not only in North America but in other countries where safety is second to none. In 2015, labeling requirements are found in NFPA 70E Section 130.5(D).
NFPA 70E 2015
130.5(D) Equipment Labeling. Electrical equipment such as switchboards, panelboards, industrial control panels, meter socket enclosures, and motor control centers that are in other than dwelling units and that are likely to require examination, adjustment, servicing, or maintenance while energized shall be field-marked with a label containing all the following information:

(1) Nominal system voltage
(2) Arc flash boundary
(3) At least one of the following:

a. Available incident energy and the corresponding working distance, or the arc flash PPE category in Table 130.7(C)(15)(A)(b) or Table 130.7(C)(15)(B) for the equipment, but not both
b. Minimum arc rating of clothing
c. Site-specific level of PPE

Exception: Labels applied prior to September 30, 2011 are acceptable if they contain the available incident energy or required level of PPE.

The method of calculating and the data to support the information for the label shall be documented. Where the review of the arc flash hazard risk assessment identifies a change that renders the label inaccurate, the label shall be updated.

The owner of the electrical equipment shall be responsible for the documentation, installation, and maintenance of the field-marked label.
Equipment labels need to be compliant with ANSI Z535.4-2011, Product Safety Signs and Labels. This standard provides guidelines for the design of safety signs and labels for application to products.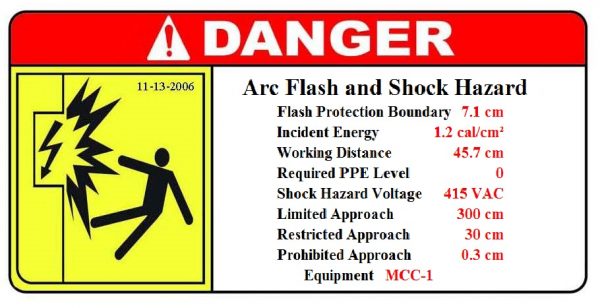 Compliance to Codes and Standards the recommends what should be labeled and how it should be labeled protect workers and reduces liability. These are critical factors to consider when labeling electrical equipment and facilities.